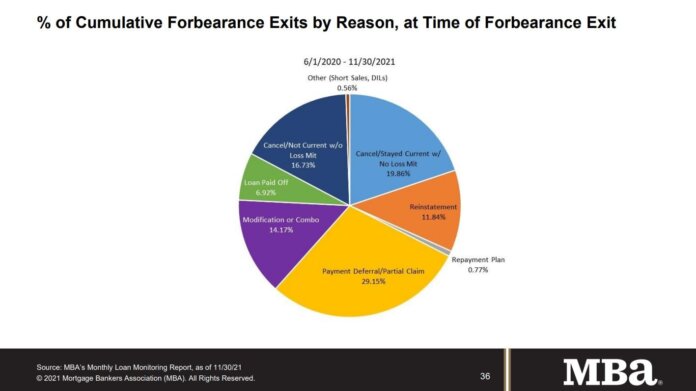 A new monthly loan monitoring study conducted by the Mortgage Bankers Association (MBA) revealed that the total number of now foreclosed loans decreased by 39 basis points from 2.06% of providers' portfolio size in the previous month to 1.67% as of November 30, 2021. Accordingly. According to an MBA estimate, there are 835,000 homeowners on patience plans.
The share of Fannie Mae and Freddie Mac loans fell 16 basis points to 0.76%. Ginnie Mae's deductible loan fell 42 basis points to 2.10%, and the Portfolio Loan and Private Securities (PLS) share of deductible fell 106 basis points to 3.94%.
"The share of loans in the repayment period fell in November – albeit at a slower pace than in October – as borrowers continued to approach the end of their forbearance plans and moved into the Perpetual Loan Workout Solutions" Analytics.
Total serviced loans that were in progress (not past due or under hold) as service portfolio volume ratio (#) increased to 94.58% in November from 94.32% in October (on a seasonally unadjusted basis). Total loan drills completed from 2020 onwards (payment plans, loan deferrals/partial claims, loan modifications) that were current as a percentage of total completed drills decreased to 83.69% last month from 84.04% in October.
More borrowers were making their mortgage payments in November than in October. This coincides with continued improvement in the labor market – faster wage growth and a lower unemployment rate to 4.2 percent," Walsh adds. "While there has been some deterioration in the performance of borrowers in post-endurance training, four out of five overall remained in place through November. "
Total loans granted decreased 39 basis points in November compared to October from 2.06% to 1.67%. By type of investor, the share of Ginnie Mae loans in deductibles decreased from 2.52% to 2.10% compared to the previous month. The share of Fannie Mae and Freddie Mac's impatient loans decreased from 0.92% to 0.76% compared to the previous month.
The share of other loans (for example, portfolio loans and PLS loans) in the deductible decreased from 5.00% to 3.94% compared to the previous month. Loans granted as a share of service portfolio volume (#) as of November 30, 2021 include the total at 1.67% m/m at 2.06%, independent mortgage banks (IMBs) at 1.94% vs. 2.28%, and depositors at 1.52% vs. 2.02%.
By stage, 18.3% of the total held loans are in the initial forbearance plan stage, while 68.4% are in the patience extension stage. The remaining 13.3% are tolerance re-entries, including re-entries with extensions.
Among the cumulative forbearance exits for the period from June 1, 2020, to November 30, 2021, at the time of impatience exit, 29.1% resulted in partial deferment/claiming of the loan and 19.9% ​​representing borrowers who continued to make their monthly installments during their maturity period. patience period. Borrowers who did not pay all their monthly payments and got impatient without a plan to mitigate losses account for 16.8%. In addition, 14.1% resulted in a loan modification or trial loan modification, 11.8% resulted in refinancing (where past due amounts are paid when out of patience), and 6.9% resulted in loan repayments either through refinancing or by home sale route. The remaining 1.4% resulted from payment plans, short sales, restricted instrument, or other reasons.
The five states with the highest share of loans were in effect as a percentage of the services portfolio: Idaho, Washington, Utah, Colorado, and Oregon. The five states with the lowest percentage of loans were current as a percentage of the services portfolio: Louisiana, Mississippi, New York, West Virginia, and Oklahoma.