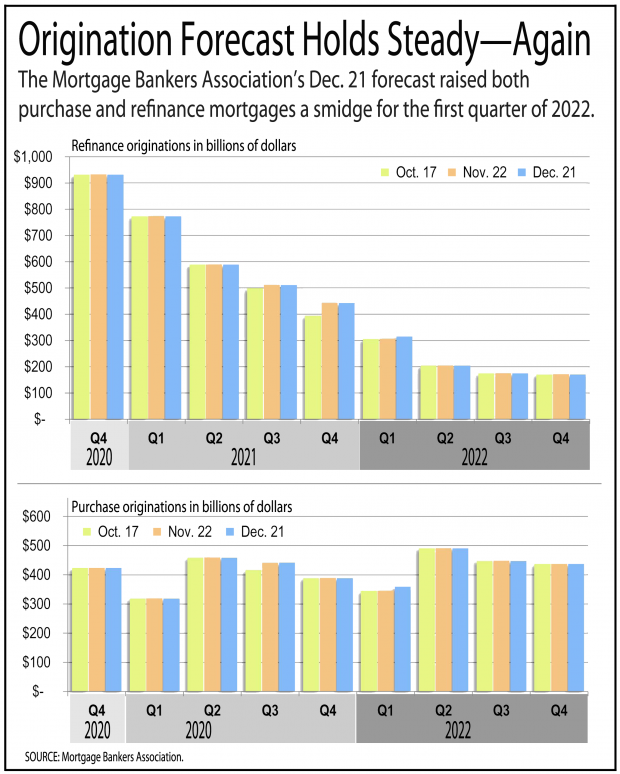 The pipeline of mortgages heading into the first quarter is a bit stronger than it was in the previous month, but economists at the Mortgage Bankers Association indicated no further changes in their latest forecast.
The December 21 forecast for purchase origin was revised up 4% for the first quarter of next year, an amount that is 12.5% ​​more than the previous year. Refinancing assets for the first quarter were adjusted 3.3% to $317 billion — down 59% from a year earlier.
The net effect was an upwardly revised 3.7% for total builds since its November 22 forecast. It is expected to reach $677 billion for the first quarter, down 38% from a year earlier.
Mortgage assets are expected to reach $3.93 trillion for the whole of 2021, which is 4.3% down from the 2020 record of $4.1 trillion. Next year, MBAs predict they will drop 34% to $2.61 trillion as the refinancing boom collapses and the buying market grows 8%.
Purchase assets in 2021 are expected to rise 8.8% to $1.61 trillion, which an MBA news release said would surpass its previous all-time high of $1.51 trillion in 2005. "Operations are expected to exceed The record high purchases of 2021 and to reach $1.74 trillion in 2022., supported by strong housing demand and rising home prices and sales."
The MBA said it expects refinancing to come in at $2.32 trillion in 2021 — down 11.6% from $2.63 trillion in 2020, but still the third highest on record. Refinancing is expected to drop to $870 billion in 2022.
Fundamental changes in the December 21 forecast were stronger than expected for single-family home construction and existing home sales in the fourth and first quarter, while new home sales were weaker than expected in the November 22 forecast.
MBA also expect:
Home price growth will slow to 5.1% in 2022, down from 16.1% in 2021.
Mortgage rates will rise year-round to 4.0% by December 2022, the MBA says since its Oct. 17 forecast.
Economic growth will be 4.0% in 2022, after 2020's 2.3% decline and this year's gain of 5.5%.
The unemployment rate, which rose to 13% in the second quarter of 2020, will end this year at 4.3% and drop to 3.5% by the end of 2022.